On Friday, December 9, the SAGE III and KSC teams completed final preparations at the NASA Kennedy Space Center Space Station Processing Facility for shipment of the SAGE III Instrument Payload and Nadir Viewing Platform to SpaceX on Monday, December 12. The SAGE III payloads and the Space Test Program- Houston (STP-H) 5 payload were inspected and installed in the Dragon trunk.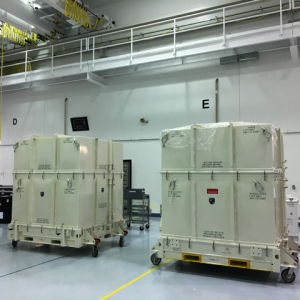 "I would like to take this opportunity to thank the SAGE III team and our stakeholders for their incredible accomplishments and steadfast support," said Mike Cisewski, project manager. "The support we have received from the KSC team during our stay at the SSPF has been superb and greatly appreciated."
He continued, "the SAGE III team has met every challenge and together, we have established a strong track record of technical excellence and meeting customer commitments. Viewing the payload immediately before transfer, I am fully confident that we have designed, assembled, and tested the SAGE Payloads that will extend the climate quality SAGE data record from the ideal vantage point of the ISS."
The SpaceX and NASA Johnson Space Center teams completed laser scans of the Dragon trunk necessary to support robotic operations on Friday, December 16. SpaceX personnel successfully completed Dragon end-to-end powered testing, including measurements confirming SAGE III heater power availability, on Saturday, December 17. The integrated Dragon capsule and Dragon trunk remain in the SpaceX Payload Processing Facility awaiting final processing for launch.