On Friday, March 10, 2017, the very important first step in activation of the SAGE III/ISS payload was completed successfully. At approximately 10:01 EST, 28V Operational Power was applied by the HOSC to the Interface Adapter Module (IAM) and initialization proceeded nominally. From there, the Solid State Memory Card (SSMC) downlink was initiated and performed flawlessly. Later in the day, the IAM's Earth Orbit Propagator (EOP) went through a performance check and passed with flying colors. All temperatures, currents, and voltages within the IAM are trending within expected ranges and all areas report a green status.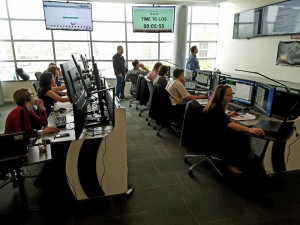 The IAM remained powered, collecting telemetry, recording it to the SSMC, and being downlinked through the ISS per the nominal schedule over the weekend while the operations team, supported by the engineering team, continued to monitor and trend performance. The SAGE III Mission Operations team continued initial activation of the payload Monday, March 13. After starting the morning with a successful check of the redundant side of the 1553 communication bus, the team moved on to initial activation of the Disturbance Monitoring Package (DMP). The DMP was powered on at approximately 10:10 EDT, data started flowing, and all values appeared nominal. 
Later in the day, the Contamination Monitoring Package 1 (CMP 1) and CMP 2 were powered, sensors enabled, and all contamination data appeared to be in good order. A preliminary review of the contamination data showed the sensors to be relatively clean with no significant accretion of material.