The SAGE III instrument has been powered on and is collecting preliminary science data from the International Space Station.
Prior to "first light", the team completed activation of the instrument payload. On Wednesday, March 15, the SAGE III mission operations and engineering teams, along with on-site representatives of Thales Alenia Space – Italy (TAS-I) providing key support, performed the successful initial activation of the Hexapod Pointing System. The powering-on of the Hexapod Electronics Unit was nominal and all telemetry demonstrated performance as expected. Following power-up, the Hexapod separation devices were activated allowing the Hexapod Upper Platform to be released from the Off Loading Device, a critical step in the initial activation of this system. This process was followed by the initial movements and placement of the Hexapod in the home position readying it for the full range of motion checkout test. Thursday morning, March 15, 2017, the planned range of motion test on the Hexapod was completed with no anomalies.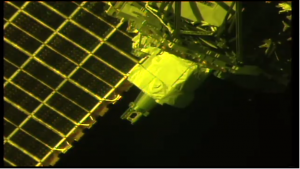 Next, the team was able to continue on to initial activation of the Instrument Assembly (IA), the last subsystem to be powered on the payload. The IA was activated and the instrument's solar attenuator launch lock was successfully released. The planned Instrument Azimuth Range of Motion test was performed with no anomalies and all telemetry for the IA is showing green and within nominal test values.  The team was lucky enough to time the range of motion test with scheduled video of the SAGE payload from the space station. A still shot from that moment can be seen to the left and a video of the event is posted to the SAGE III/ISS YouTube channel and Facebook page.
Following the success of full payload activation during the day Thursday, the mission operations team enabled the first solar occultation events at approximately 8:00 p.m. While the very first event did not acquire the sun due to known blockages from the ISS (as expected), acquisition events continued throughout the night autonomously. After the mission operations and science teams had a chance early Friday morning to review the data received over night, it was clear several successful solar occultations occurred. Autonomous operations continued over the weekend and the team is settling into a planned cadence of adjustments and data analysis as commissioning continues. Check out this nasa.gov feature on the IA activation and first light.
Now that data is flowing, predictions of measurement events are available on the validation site. The map to the right shows the locations and types of measurements SAGE III will make during its first 10 days of operation on the space station.